Massage In Schools Programme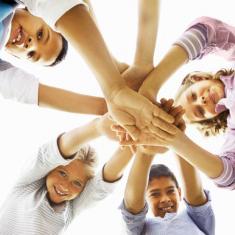 Children benefit hugely from receiving positive touch. It gives them confidence, helps them build stronger friendships, lowers their stress levels, increases their concentration at school and helps them relax and sleep better at home. Massage can be closely linked to the national curriculum to make learning as much fun as possible – for example a Phonetics class can have children writing words on each others' backs!
Research has shown that children blossom as a result of positive touch and massage and the Massage In Schools Programme (MISP) has also gone a long way to help reduce bullying.
Katherine is a qualified MISP Instructor in addition to being a qualified Primary School Teacher and  Nanny. She brings these valuable skills and knowledge gained in working extensively with children into this environment making her an ideal person to introduce the wonderful benefits of massage to school children.
For more information on the programme please contact Katherine.